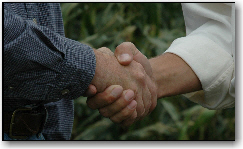 Current Job Posting Content: Commodity Marketing Sales Consultant

Market Wise Ag Services has been helping farmers market their grain and livestock since 1992. An increase in demand for our services has created opportunities for new Agriculture Marketing Consultants across the Midwest, including Iowa, Minnesota, Indiana and Illinois. This career offers you the unique combination of excellent income potential and balance of life. Market Wise offers you the flexibility to live anywhere within the Midwest and to work from a home office setting or from a commercial office.

As a Commodity Marketing Sales Consultant you work with farmers to help them manage their revenue from grain and livestock sales using the Market Wise Total Revenue Management Program. You will contact farmers, visit them on their farms, enroll them in the Market Wise Revenue Management Program, and then provide ongoing excellent consulting service to the farmer. Once you have your client base established you transition to a larger percentage of time spent on service and retention of existing clients and less time on getting new clients.

Market Wise offers you an outstanding career opportunity. We have a very generous straight commission plan which means your income is limited only by your performance. The income potential is excellent and there is flexibility in work hours.

Market Wise has one-on-one training and the ongoing support you need to be successful. We teach you the sales, marketing and service techniques you will use. Market Wise prepares and distributes all research reports, newsletters and bulletins to your clients. Market Wise develops marketing strategies that you can use and provides all the resources for commodity brokerage.

To be considered you will need a bachelor's degree, preferably in agriculture, business, or finance. You need to have excellent people skills along with strong sales and customer service skills. You must be committed to helping our clients be successful. Beneficial, but not required experience could include agriculture sales, grain merchandising, agriculture banking or agriculture lending, crop insurance, agronomy sales, feed sales, agriculture equipment sales, or agribusiness management. You will need a strong background in agriculture, and it would be very helpful if you have lived on or worked on a grain or livestock farm. You will need to have or acquire a Series 3 NASD commodity license (we have resources to assist you in getting this). You will need to become an Associated Person with the National Futures Association which will require you to pass a background check.
To apply forward your resume to:
or
Market Wise Ag Services
8229 Stone Creek Drive
Chanhassen, MN 55317